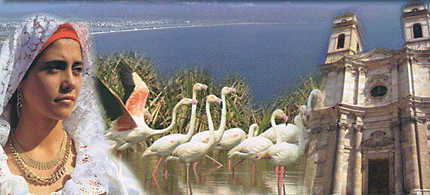 In these pages you can find all the information you need to discover Cagliari and plan your visit to our city.

"Guide to Cagliari" includes information about the history of our city, air and sea links, things to see and things to do.
This guide also includes information about the environment, culture, gastronomy and sea, which is Cagliari's greatest resource.
Under the heading "Tourist Services" you can find information about hotels, restaurants, car rental and tour operators.
Under the heading "Tourist Bargains" you can find special offers and package tours to Cagliari, and weekend breaks.
"Events and Shows" includes an up to date timetable and description of the most important festivals in Cagliari.
On the last page of this site you will find links to other sites with information about Sardinia and its Capital.

These pages are also an inducement to discover the "city of the sun":

The city of Cagliari is the result of thousands of years of history. The history of many civilizations that have left their mark all over the city.
Cagliari, in every season has something to offer the curious and attentive visitor.