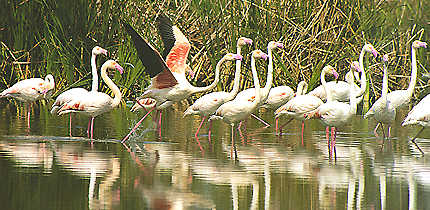 The pond of Molentargius is a natural "tank" populated by thousands of birds representing over 200 different species. The presence of salty and fresh water governs the location of the different ornithological species.
In the salt pan area we can find:
Flamingos
Sea Crows
Curlews
Avocets

The marsh of Bellarosa minor where small rivers flow and the waste waters from Quartu, Quartucciu and Selargius drain, is home to:
Stilt Plover
Moorhen
Marsh Harrier
Widgeon
Purple Gallinule

Numerous species of birds populate both fresh and salty basins such as different species of ducks (Pintails, Shovellers, Mallards, Teals, Pochards) and small birds such as Kentish, Plover, Little Stint and Wagtail.