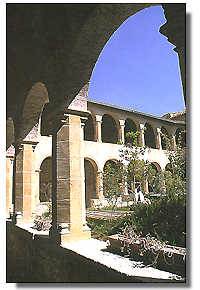 Villanova was the area of Cagliari that originally expanded towards the countryside. Even today, it is not unthinkable to find flower gardens or relics of vegetable gardens among the low-lying houses, which are mostly unpretentious with some Liberty Style decoration.

Monuments: The profound religiousness that permeated Villanova in the past, and that gave rise to the Spanish influenced rites of Holy Week, has not entirely disappeared. Villanova's churches merit a visit. Some contain cloisters and convents, such as S. Mauro with its 17th century porticoed cloister or the even more elaborate S.Domenico. The church of S.Giacomo is flanked by two chapels, the Oratori delle Anime (souls) and del Crocefisso (crucifix), and are rich in wood and marble decoration.

Museums: The Municipal Gallerv of Modem Art, in the Giardini Pubblici (Public Gardens) houses works by 20th century Sardinian artists, a collection of the neo-avant'garde in Italy from the 1960's and 70's, as well as temporary exhibitions.

Shopping and points of interest: Villanova is an artisans' quarter. Carpenter/inlayers and restorers, who double as painters, open their shops in Via S.Giovanni as well as within the intricate web of the neighborhood's streets. Barbers, leather workers, and general stores, never seeming to renew their merchandise, animate a commerce that appears almost concealed from view.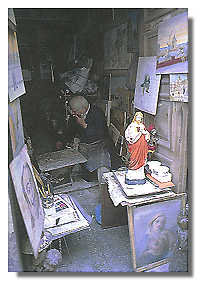 Eating and drinkin: There are many pleasant places to eat or drink: Mediterranean-Arabic food in Via Eleonora d'Arborea or great sandwiches (crostoni) at the café in Via Iglesias near Via Garibaldi. The colorful S.Benedetto marketplace, outside the historic nucleus of the neighborhood, ends the gastronomic itinerary.

Culture: Villanova's cultural centers are inventive. A center for the study of women's conditions is located in Via Lanusei. The experimental cinema in Via S.Giacomo complements the limited offerings of the more traditional movie theaters.

Promenades and open spaces: The green of Villanova's gardens is repeated in the trees shading the zone's principal promenades: the Terrapieno (embankment), a magnificent overlook providing a panorama of the eastern part of the city, and the Giardini Pubblici.