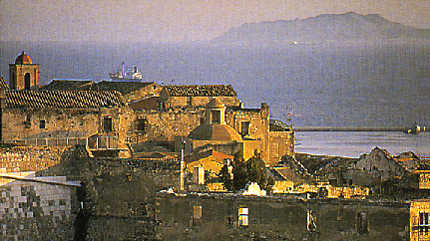 National Art Gallery: This museum contains a small section of contemporary art and sculpture as well as oils, coats-of-arms, religious objects, and paintings. The altarpieces are the most interesting part of the collection. They offer a panorama of the best Sardinian painting beginning with the initial Catalan-Valencian influence through the local Cavaro atelier and the related "Stampace school".
Siamese Museum: This collection includes Asian coins, ivories, silver, porcelains, and weapons dating from the 11th to 19th centuries.
Anatomical Wax Collection: The 23 anatomical models from the 19th century were executed by the famous Florentine wax model maker Clemente Susini.
In Palazzo Belgrano in Via Università are:
Print Gallery: This collection includes series of l9th century photomechanical reproductions and etchings by 20th century Sardinian artists.
The Piloni Collection: Along with paintings, prints, and etchings of views of Cagliari and Sardinia, the collection includes examples of the island's rich tradition in tapestry weaving and rug making.

Shopping and points of interest: Castello streets abound with small workshops and restoration laboratories. Some crafts, including ceramics, papier maché, wrought iron, and leather, reinterpret the most consolidated traditions. Furniture and antiques are given new life by professionals. A small antiques market, held on the second Sunday of every month in Piazza Carlo Alberto, is near the weekly flea market on the Bastione di S.Remy.

Eating and drinking: Numerous private clubs have recently opened where one can eat and drink for a moderate sum as well as hear live music.

Culture: Local crafts people and shop owners have been working for the neighborhood's revival. Some outdoor performances are held during the summer. The ISOLA (Sardinian Institute for the Organization of handicraft Work) gallery, located in Via Santa Croce, is dedicated to the exposition of the island's traditional handicrafts. The Man Ray Gallery, in Via Lamarmora, organizes temporary exhibits and discussion groups with the artists.

Promenades and open spaces: Castello is a quaint neighborhood with humble, yet singular, architecture. It is worth a leisurely walk through the shadowed alleys, which are punctuated by unexpected panoramas from the Bastioni di S. Remy, Balice, or Santa Croce.