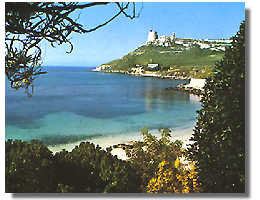 Let us consider Poetto beach as an area of great natural interest. Following the route of the buses which link Poetto to the city center, let's follow one route.
Before reaching Poetto beach, from Viale Poetto there is a turning on the right. From here a straight road leads to S. Elia, which is an ancient fishing village which has been turned into an isolated suburb of the city. Not far from the small, little renovated or ramshackle houses, there is a weekly market. Every Sunday there is an illegal open-air market, which is often dogged by censorship and police raids. The only product that is always available is the fresh fish from the nearby Gulf of Cagliari.
On the way back there is a fork in the road which goes behind the Monfenera barracks, to the old village of S. Bartolomeo, which last century was a penal settlement. Nowadays the penitentiary doesn't exist any more and the seventeenth-century chapel dedicated to the Virgin of Lluc has also disappeared. The stone fountain, which was built by the prisoners in 1857, and the little church of S. Bartolomeo are all that remain.
Going over the hill one reaches Calamosca. From its little square in front of the sea, between the Hotel and Ederle barracks, it is possible to go for an interesting walk across the paths that climb the hill of S. Elia, obviously avoiding the routes that cross military property.
In this area there are some interesting historical fortifications: the ruins of the "Spanish" blockhouse which was built in 1792 in advance of an expected French attack; the tower of "signals" (a lighthouse) from the Aragonese period which guided ships into the port during the last century, and the ruins of the tower of "Perdusemini" (which means of Parsley in Sardinian). It is worth spending some time taking in the view from the top of the hill. This hill has been populated since before the Neolithic period and there are also some wonderful sheer rock cliffs, some peaceful little beaches and some caves. It is no longer legal to walk there. Sailing close to the shore has recently been forbidden also after the collapse of some of the rock faces. Unfortunately until such time as the ban is lifted it will no be possible to reach the cave of Colombi by boat. This cave of great Paleontological value is situated just under the Saddle. Swimming is also banded at the nearby Cala Fighera, which is famous for its seascape and cliffs which reflect light in a marvelous way.